NEA Member Benefits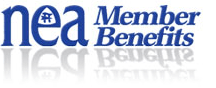 Welcome to NEA Member Benefits online community, powered by TeachAde.
This free social networking Web site is designed just for educators. Join now!
Educators' Role in Protecting and Defending – Bryonn Bain @ 2018 NEA National Leadership Summit
21st Century Skills
Do you have focused 21st Century Skills curriculum? Is it vital for students learn these skills in school?
Join this group and let us know what you think.
What Matters to You
We have a variety of online groups to participate in, from professional resources to money matters. Are we missing something?
Drop us a line to suggest a new group.